On August 27th, at Los Van Van's outdoor concert in Nokonoshima, Fukuoka, I handed out fans("uchiwa" in Japanese) with a picture of Juan Carlos Formel, who passed away on May 26th, to many people. I asked them to wave a fan.
The story of the "Uchiwa Fireworks" included the fact that my friend Yoshiko passed away the day after Juan Carlos passed away, and my friend who was diagnosed with malignant lymphoma, who paid half of the cost of the Uchiwa.And there was one more thing.
I asked myself this question the day I learned that Juan-Carlos had passed away and that Yoshiko had passed away.
"If you were to die in the near future, what would you regret?"
The only thing that came to my mind was to express my gratitude to the writer, Mr. Ryu Murakami, without hesitation. In 2000, Mr. Ryu Murakami wrote in his e-mail magazine about my project in 1999 whicth is to give World War II popular songs to 3,500 nursing homes across the United States. (Words from Mr. Ryu Murakami)
He was the only person who understood the true meaning of my project.
But I really wanted to tell him; what happened to me, what I went through, and how much I was supported by Ryu Murakami's words and presence.
It's easy to say, "Thank you very much."
I decided to write a letter to Mr. Ryu about my story.
I decided on a letter length of 280,000 characters. My friend told me that the number 28 is a perfect number. 280,000 characters are about 2 to 3 books.
After sending the letter to Ryu Murakami before Los Van Van's concert in Fukuoka on August 27th, I decided to set off Juan Carlos's "Uchiwa fan fireworks."
No permission was obtained. So there were some problems. Still, I'm sure it reached Mr. Juan Carlos in heaven.
At that concert, there was another important task for me.
I entrusted Armando Cantero (Mandy), the vocalist of Los Van Van, with the task of delivering the Spanish version of Ryu Murakami's "Almost Transparent Blue" to my best friend Luisito, who lives in Cuba.
Some people may be wondering why I was running around so frantically. I had those reasons.
Yesterday, I sent an email to Ryu Murakami regarding another matter.
I asked if he would consider streaming the album "You Don't Know What Love Is" by Xiomara Laguart, which Ryu Murakami produced in 1993.
I received a reply an hour after I sent it.
I think Mr. Ryu Murakami will start considering streaming distribution of Xiomara's album.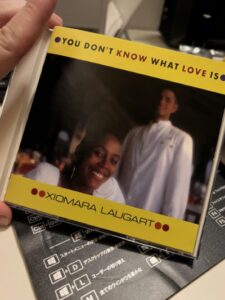 In this Album, Jose Luis Cortés of NG La Banda, who passed away last year(2022) and was very close to Ryu, participated in the album as a flute player, arranger, and music supervisor, and he expressed the sincere energy of the musicians and producers. Because it was a great work that paid homage to American standard numbers. I want to tell you about this again.
---