Thanks letters from Nursing Homes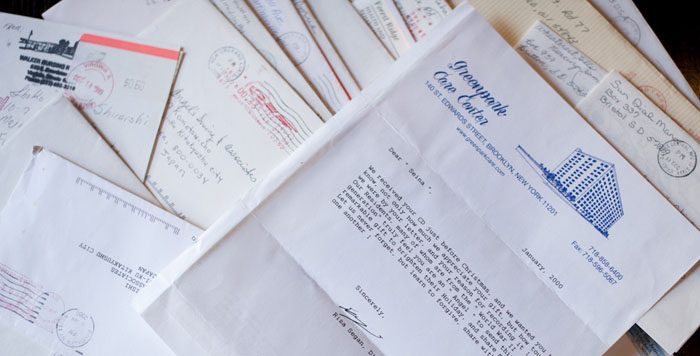 ---
Dear "Seina"
We received your CD just before Christmas, and we wanted you to know, not only how much we appreciate your gift, but how touched we were by your letter, and your reason for recording it !
Our Residents, many of whom are from the "World War II generation" truly feel you are an "Angel" to send this remarkable gift to brighten their Holiday, and share memories.
Let us never forget, but learn to forgive, share with, and love one another!
Sincerely,
Risa Segan, Director of Activities
GREENPARK CARE CENTER, NY
---
Dear "Seina"
Thank you for your Christmas gift of prayer and songs to our elderly residents. I am sure they are going to appreciate it. I'll be sure that their prayers are joined with yours.
Thank you ! € God bless you. May the new Millennium be a time of peace for all the world.
S. Gerald Maice
JEANNE JUGAN RESIDENCE, RI
---
Dear Ms. Shiraishi:
I am writing with regard to the compact disc you recently sent to my residents in the long-term care unit at McLaren Regional Medical Center. I was very touched, as were the residents, by both your letter and the music. How nice to know that your voice is beautiful and has touched our hearts. So on behalf of the residents here, I would like to extend our sincerest thanks and wish for a wonderful and prosperous New Year.
Sincerely,
Kelly L. Wolfe, CTRS, Activity Director,
McLAREN REGIONAL MEDICAL CENTER, MI
---
Dear Ms, Seina:
On behalf of our President, J. Donald Dicunto, Board of Trustees, and our nursing home residents, I want to thank you for your donation of the album you sent us during the Christmas holidays for the listening pleasure of our nursing home residents.
Personally, I spent some time listening to your beautiful album and I was very impressed not just by your lovely singing voice, but also by the intent of your Christmas gift to our nursing home residents is admirable.
I am happy to hear that war-time songs are still popular, alive, and loved by many in Japan.
Your Christmas gift to our residents at Victory Memorial Hospital Nursing home will be very much appreciated by our one hundred fifty residents.
My very best wishes and lots and lots of success to a very caring person like yourself. Please visit our nursing home whenever you come to New York City.
Very truly yours,
Leticia A. Farajiani SNC Administrator
VICTORY MEMORIAL HOSPITAL, NY
---
Dear "Seina"
What beautiful memories your album "I Have a Dream…Seina" brought to our people. It takes warm, loving people like yourself to close the door to the hurts and sadness of WWII.
Music really is an international language.
Betty Loebs,
WHEATCREST HILLS, SD
---
Dear Seina
Your gift arrived just in time for Christmas. We have 2 CD players for our residents to enjoy music and when we put your CD on, there were many singing along. Thank you so much. I admire you for your dream and your desire to see it come true.
Sincerely
Janet Elkins, Activities Director
COLORADO STATE VETS NURSING HOME, CO
---
Subject: Your Beautiful Christmas Gift
Dear Seina,
I am Lorraine Ernst and I am the Director of Activities and the Social Worker at the nursing home, Pioneer Manor, in Gillette, Wyoming. We got your beautiful gift of the CD today in the mail. I did not have time to listen to it today at work so I brought it home and listened to it while I wrapped Christmas presents for my beloved family who cannot be with us to celebrate this Christmas. I was feeling quite sad about that, as well as feeling down about the death of my father and the very recent death of my mother. I miss them so. But what a comfort your music gave me!
My father fought in WWII and he was absent from my mother at the time she gave birth to my older sister. My father did not get to see her until she was nearly 10 months old. What a special time he missed, being away from his family. I too am a musician, a pianist, and I have always loved all those old songs. I played them for my parents for many years. And tonight, I sang all the songs along with you, they touched me so. As I wrapped presents and listened to your lovely songs, I felt comforted and blessed.
I cannot wait to play this music for our residents at the nursing home. Many of them are WWII Veterans. Many of our women were spouses or sweethearts of the Veterans and will also be touched deeply by your music. You have truly given them a blessed gift this Christmas! We will be sure to read them the letter you put in the case so they understand the nature of your gift and the reasons for your recording these songs.
Thank you so very much for your sweet and sentimental gift. God will surely give you an extra blessing for your generosity. If you are ever in Wyoming, I hope that you will stop by and let us meet you. It would be a most welcome treat for us. God bless you and yours this Christmas.
Lorraine Ernst, BA, Social Services Director
PIONEER MANOR, WY
---
Subject: Thank you for your very special gift
On behalf of the residents and staff of Beaumont Care Center, thank you for your very special gift of sentimental songs, and most of all, thank God for such a wonderful creation like you. We do not know who you are but we feel the warmth of your heart. You will definitely never walk alone.
We do enjoy your music. May God bless you always… Thank you.
---
Subject: THANK YOU
Thank you so very much for your generous gift of the CD. The story you tell is touching and inspirational. I am sure my residents will enjoy the beautiful words and music, as well as remember sights, sounds, and events that have been long forgotten. Thank you for your generosity and kindness. May God bless you and give you a safe return to Japan.
Sincerely,
Tracy Williams Activities director
STONEGATE NURSING CENTER
---
Subject: thanks
Seina,
My name is Michael Wilde. I am the administrator of Mt. Ogden Nursing Rehab in Ogden, Utah. I received your CD and wanted to tell you thanks. I love it and my residents will enjoy it also. My dad served in the war and I grew up with this music. Thank you so much and I hope all of your dreams will come true.
Thanks,
Michael
---
Subject: Thank you
I am the Activity Director at Enumclaw Healthcare in Enumclaw, Washington. I received your CD, it is beautiful. I also love the music of that era, even though I was not born then.
Thank you so much for your CD, I also do not understand war. I am happy that we are at peace with Japan. I have a 21-year-old daughter who has been to Japan once (she will come with me in April) and a 15-year-old son. Both have hosted Japanese students and it is important for me that they know that we are all the same, no matter what our culture is. Please continue your work.
I pray that God will bless your work and that you will touch many hearts in the US and Japan.
God Bless You
Beth Sprau
ENUMCLAW HEALTHCARE, WA
---
Dear Ms. Shiraishi
We received your lovely CD today. Thank you so very much for remembering us here in Lusk, Wyoming. So frequently the elderly and wise of this western culture are forgotten and overlooked within their own communities. Thank you for remembering the many wonderful people with whom I, and the other staff here, are privileged to work.
Many of our residents are descendants of homesteaders and ranching families who settled in this area after many of the Native Americans were relocated to reservations, I was born during WWII in California and was privileged to go to school with many Japanese Americans who had been born in Manzanar, a relocation camp during the WWII for Japanese Americans. We have all come a long distance since those years when our native countries were at war.
Bless you, for your wonderful sharing and your beautiful talent. We will experience many joyful hours listening to your music.
Again, the peace and love which is represented at this time of the year through giving be with you always.
Sincerely yours,
Marty Harris, Social Worker, and all of the Residents and staff.
NIOBRARA COUNTY HOSPITAL DISTRICT, WY
---
Dear Shoko "Seina"
Thank you for the "I Have a Dream…" CD. That was sent to Sioux Valley Canby Campus Nursing Home recently. Many of the residents here enjoy listening to music and especially to songs from their era. It was very thoughtful of you to remember them in this way.
Thank you.
SIOUX VALLEY CANBY CAMPUS, MN
---
Dear "Seina"
Thank you for the lovely CD on WWII oldie favorites. The residents loved the tunes and were reminded them about the WWII days and their loved ones who had to march to the war.
Residents and Staff
FALMOUTH RESIDENTIAL CARE FAC, ME
---
Dear Seina,
Walker Nursing Home residents are appreciating the CD of WWII-era music. The selections are marvelous. The music is indeed beautiful from the 1930s and 1940s.
You are a thoughtful person and we are impressed with your vision of sharing.
Yours truly,
Mary White
WALKER NURSING HOME, IL
---
Dear Shoko "Seina"
Thank you for your beautiful CD. The residents are enjoying it at this very moment! You have a beautiful voice! and you are very talented!! I will be visiting your web site, too. Thank you! Again thank you for your gift. Happy Holidays!!!!
Sincerely,
Theresa Azzaretto, Director of Recreation
PROMENADE REHABILITATION AND HEALTH CARE CENTER, NY
---
Dear Shoko "Seina"
Thank you so very much for sharing your dream with nursing home residents. Our 50-bed home in Wisconsin was delighted with your thoughtful gift.
Thank you for sharing your talents and gift of music. We are enjoying the music.
Brenda Reisdorph R.N. Clinical Director
EDWARD SNYDER NURSING HOME, WI
---
Dear Seina,
Thank you so much for the beautiful CD. That was so thoughtful of you, and our residents at New Martinsville Health Care Center loved it!
Sincerely,
Sherry Hill, Activities Director
NEW MARTINSVILLE HEALTH CARE CENTER, WV
---
Seina
I am Activity Director at Mark Rest Center in McConnelsville, Ohio. I received your CD and thank it is great. The name of it is "I have a Dream…" Do you sell CD in the United States? Your voice is beautiful. I have played it over and over (and over). Thank you for sending it. The residents like it, too.
My son is going to look for your records in Columbus, Ohio!
Sincerely,
Majorie Osborne
MARK RESR CENTER, OH
---
Dear Seina,
We received your CD with much delight. I played it for myself first as I am very fond of the big band music from the 40's. I then gave it to our Activities Department for use for our residents. Many thanks for thinking of our residents.
Have a very Merry Christmas!!
Sincerely,
Jannie Brumley, Administrative Office Manager
PIEDMONT CENTER, NC
---
Dear Ms. Shiraishi
We received your CD today. This is truly a loving gesture. I'm sure we will enjoy many hours of listening pleasure.
We appreciate your prayers for us and will remember you in ours. We are having our resident party tonight and your gift will be included.
Thanks again. And God Bless you in the new millennium.
Kathy McDonald, Administrator
MOUNTAIN VISTA HEALTH PARK, NC
---
Dear Seina
Thank you so much! Our residents loved the songs. They took them back a few years (quite a few) to days gone by. When everyone could sing along and the words made the scene. You were so kind to make this CD and share it with so many. Thank you so very much.
Charlotte Kunzelman, Activity Director
GRAND STRAND HEALTHCARE, INC, SC
---
Dear Seina
The residents of Integrated Health Service in Jacksonville, Florida, U.S., would like to sincerely thank you for your wonderful gift of music! The World War II era of music is truly a time that brings back precious memories for our elderly population.
It is our hope that you had a blessed Christmas and that you will have a very prosperous and happy New Year!
Sincerely,
Brenda K. Collins, ADPC Activity Director
INTEGRATED HEALTH SERVICES, FLORIDA
---
Dear Seina,
First off, thank you for your generous gift. We love the CD. I also love the songs related to the WWII era. Sentimental Journey is my parent's wedding song. I love for them to share stories of their lives. My father claims that he should never trade the music of his generation for any other. I had the pleasure of visiting Kyoto for 2 weeks 10 years ago. I stayed with my penpal Japanese family. Japan is very beautiful.
God bless.
Beth Wright
GULF COAST CONVALESCENTS CENTER, FL
---
Dear Ms. Shiraishi
My employment is with the Williamsburg Village Health Care Camps, and you gifted them with your recent music CD.
I was a teenager during the time this particular music was so popular and would like so much to secure two of these CDs.
If you have enough to sell, I will be glad to send you a check in US funds for two of them.
Many thanks.
Sincerely,
Evelyn H. Roberts
WILLIAMSBURG VILLAGE HEALTHCARE CAMPS, TX
---
Dear Seina
Thank you so much for the wonderful CD you sent for our nursing home. We enjoyed it very much. The songs brought back many memories for many of the residents. You did a fabulous job, what a beautiful gift, sharing your talent with us. We wish you a wonderful future and thank you for sharing the past with us.
Katty Tracy, Social Services
DISCOVERY CARE CENTER, ID
---
Dear Seina,
I had to mention a thank you for this most beautiful CD. You so generously gave to many nursing homes.
As the letter said it is so true, we can never really know how they really felt you can only imagine.
I have been working with the elderly since 15. I am now the Activities Director in the same nursing home. I am forever learning from my elderly friends here. For one thing, learning ever to be grateful for what you have. Their struggles were far greater, even when ours seem great. Thanks for the beautiful CD. The residents will certainly enjoy for many years to come.
Sincerely,
Suzan Kaye, Activity Director
AMENITY MANOR, ME
---
Dear Seina,
On behalf of our residents, I would like to extend our heartfelt thank you for the beautiful CD that you sent to us for Christmas. They love listening to it and appreciate the love and caring behind it. You should receive many blessings for your kind act.
Pat Massey, Activity Director
PROGRESSIVE CARE CENTER, CO
---
Dear Seina
What a wonderful gift that we received from you. It is so touching and knows there are people like you in the world. And thanks for lettering us be a part of this love.
We will certainly enjoy it. And once again, thanks for the gift.
Alice Stodola, €Residents and Staff
STANTON NURSING HOME, NE
---
Dear Shoko,
I wanted to just drop you a line and tell you thank you for the wonderful CD you sent our Nursing Home. Our residents are enjoying it very much. The residents truly enjoy the familiar songs which bring back many memories again. Thank you for your generosity.
Sincerely,
Caralyn Walton, Activity Dir,
BRIARFIELD OF MILAN, OH
---
Dear Seina,
Just wanted to say thank you for the beautiful CD we just received it in the mail today and several of our residents were listening to it in the day room and were enjoying it.
We will continue to share it with our residents!!
Thank you again!!!!!
Nancy M, Activity Director
MEDILODGE OF YALE, MI
---
Dear Shoko "Seina" Shiraishi
On behalf of Sun Dial Manor and its Residents, our thanks and appreciation for your gift of music. Our residents do enjoy music, which is of comfort to them providing relaxation and solace often when nothing else does.
How wonderful to know there are people like you who we so thoughtful to those less fortunate. May God bless you in your endeavors.
In Christ
Cindy Gensen, Social worker,
SUN DUAL MANOR, SD
---
Dear Ms. Shiraishi:
We received your CD this afternoon and are sending you this thank-you note to show you our appreciation. Thank you for taking the time to care about the elderly; you are a very sweet girl.
Thank you again,
Marnie Carey
ROLING FIELDS, PA
---
Dear Seina,
Just a note in appreciation for the beautiful CD you have sent us here at Welcome Nursing Home. Thank you for your thoughtfulness.
Sincerely,
WELCOME NURSING HOME, OH
---
Dear Shoko "Seina" Shiraishi,
Thank you for the gift of Music. It's soft quiet easy listening for our residents. How very thoughtful of you, it so nice! The Good Lord Bless you in your dream.
Carol Gauitt on behalf of the Residents of
COLONIAL MANOR, WI
---
Dear Seina,
Thank you for the album that we received at our facility. There are several of our residents that have been able to listen to it and truly enjoyed your music. May God Bless You.
Sincerely,
Jean Bartell AD
HOLLY NURSING & REHAB, ID
Dear Seina
Thank you so much for the gift of your CD for our residents at Forest Ridge Health Rehab to enjoy this holiday season! Your kindness is greatly appreciated!! Merry Christmas!
The Staff,
FOREST RIDGE HEALTH & REHABILITATION CENTER, WA
---
Dear Seina
I wish to thank you for the wonderful CD Album for our residents!
They have truly enjoyed your contribution to our care center. We will log onto your site also.
Merry Christmas,
Beckey Donkersley,
ALTA VISTA HEALTHCARE CENTER, CA
---
Seina,
Thank you so much for your generous donation of the CD "I Have a Dream". I plan to transfer it to a cassette tape as we have no CD player. Thank you again.
MISSION CARMICHAEL HEALTH CARE, CA
---
Dear Seina
Our clients and staff would like to thank you for the wonderful CD "Angels Swing". We enjoyed every moment of it. Thank you very much.
TELECARE CORPORATION,CA
---
Dear Seina,
I would like to thank you for the CD. My residents love the music. It was very nice of you to send it to nursing home residents because they are often forgotten about .Thank you again and God Bless.
ANDERSON HEALTH CARE, IN
---
Dear Seina,
Thank you for the wonderful CD. Our residents absolutely love the music.
Sincerely,
All Staff & Residents
THE AUGUSTA LONG TERM CARE, KS
---
Dear Seina,
We would like to thank you so much for the kind donation of your CD. Our residents truly enjoy it.
Reni Knoll
CONVALEASCENT CENTER, MI
---
Dear Seina,
Thank you very much for thinking of us and we really enjoyed your music. God Bless!
Sincerely,
HERITAGE MANOR OF HOUMA, LA
---
Dear Seina,
Received the CD "I Have a Dream" by Seina, We would like you to know that the songs are lovely and we appreciate the gift.
Thank you.
PORTAGE HEALTH SYSTEM, MI
---
Dear Seina,
On behalf of the residents, we would like to express our appreciation for the CD donated to the Resident's library.
Thank you
Mary Larrabee, Director Rec Rehab Services.
DIVINE SAVIOR HEALTH CARE, WI
---
Subject: Domo arigato gozaimashita!
Dear Miss Shiraishi:
I am an Activities Director at one of the nursing homes you sent your CD "I Have a Dream". I admit, when I got it, I was a bit surprised and somewhat skeptical. After all, getting a free CD in the mail seemed a bit odd to me. When I noticed your name on the return address on the CD box, it caught my attention. I admit seeing a Japanese name drew me in since I am interested in Japanese culture and language.
I read the enclosed note and took your CD home. I wanted to listen to it myself first, before letting the residents listen, so as to make sure they might like it. After listening to it (more than once, by the way), and after my mother'll listening to it (she could hear the Jo Stafford influences in your voice), I must say I am impressed. This is something I could listen to several times over and enjoy every time.
This brings me to a dilemma: this CD is for the nursing home. I admit to wanting one for myself. Could you please share how I could go about purchasing a copy of my own, so I won't feel guilty keeping one meant for the residents of my facility. Your assistance in this matter would be greatly appreciated, and I thank you in advance.
Oh, by the way, about your dream: as one who has a dream of my own (to someday work in Japan in manga and anime), I applaud you for striving to fulfill yours. Your work is beautiful, and I do wish to keep up with your progress. Keep after your dream, and you won't go wrong.
I thank you for your time and hope you had a Merry Christmas. I also wish you a Happy New Year, and hope your trip home is a safe one. Please take care.
Sincerely,
Matt A. Vermillion, IN
---
Subject: CD's to American Nursing Homes
That is a wonderful thing to do. I work in Long Term Care and know how many people are forgotten in Nursing Homes. I also was stationed at the 14th US ASA Field Station in Hakata. I lived in Satozokie from 1969-1971. I have many wonderful memories of Japan and the Japanese people. Thank You for what you're doing for the residents in Nursing Homes.
---
Subject: CD gift
Rolling Fields residents and staff members wish to thank you for sharing your work on the CD. It was very thoughtful of you. We are really enjoying the CD."THANK YOU! Best wishes for a successful 2000.
Sincerely,
Reneva Sweet, Community Liaison
ROLLING FIELDS, PA
---
My Dear Shoko
Just a small note. I am the Administrator of Bayberry Commons in Pascoag, Rhode Island. Our residents enjoy your music very much. Thank you on their behalf. Personally, I am as impressed with the quality of your soul as I am with the quality of your music. Your Singing is so beautiful like new flowers in the spring. Your written sentiments read like poetry. I hope you continue singing. I feel that it is a healthy outlet for your soul. My wishes to you and your wonderful family for a Happy New Year.
T. Lloyd Ryan , Administrator and admirer
BAYBERRY COMMONS, RI
---
Subject: Thank You
We received your cassette tape. Thank you very much for your thoughtfulness!
The Residents of COMMUNITY MEMORIAL HEALTH CENTER, Hartley, IA
---
Taking this opportunity I must apologize for throwing the recipients of the gift CD into confusion which may be caused by my simple mistake in providing the wrong sender's address mentioned in my letter to Nursing Homes. I left America right after the project without realizing this oversight. For this reason, perhaps some letters didn't reach me. Also, I apologize for not answering the people who wrote me.
These letters are my precious treasure and they encourage me to further action. I thank you all from the bottom of my heart.
Seina